The Invention of Hugo Cabret by Brian Selznick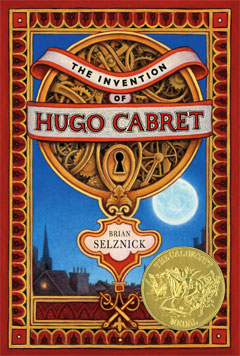 Steam punk, Illustrated novel
533 pages
Ages 9+
Summary:
Hugo Cabret, a 12-year-old orphan boy spends his days winding the clocks in a 1930s Paris train station and attempting to fix the one thing he has left of his father--a broken automaton.
Hugo befriends a girl, Isabelle, whose godfather owns the toy booth in the train station where Hugo has been stealing parts to fix the automaton.
Along the way, Hugo and Isabelle learn that Isabelle's godfather is one of the most famous original filmmakers and that Hugo's automaton was the old man's invention.
Once Hugo repairs the machine, he discovers that the key Isabelle wears around her neck would fit its key hole.
The two of them activate the automaton, and it draws a magnificent picture of a scene from Hugo's late father's favorite film, made by Isabelle's godfather.
Read-alikes:
Wonderstruck by Brian Selznick
The Iron Giant by Ted Hughes
Leviathan by Scott Westerfeld
Coming up next:
Ella Enchanted by Gail Carson Levine
Happy Reading! <3
Krystal